tumblr account
and I'm using it now for posting my crap? Though I don't think I'll leave my precious lj because of that, only I'll post less frequently and with more pictures (not that these past months I was really active, but I blame school, not my other websites). And still, I feel more comfortable with going blah blah blah here.
generic little mecha girl. Testing out my new fancy moleskine. I dunno if it was worth its price. But at least I know what these sketchbooks are like.
Some days ago Usada visited me. She seriously wanted to go cloth shopping. I was like: noooessss, my moneeeey. And it turned out how I predicted, she bought close to nothing and I had to say bye bye to my next semester food fund. I will starve. Whatever. I have pretty new clothes. And so, back to this picture, there were still way to many pretty clothes (and some extremely expensive belts) that I couldn't buy so I did this to relieve my stress xB
no, actually this came to existence because I totally failed at my attempts to draw proper 8059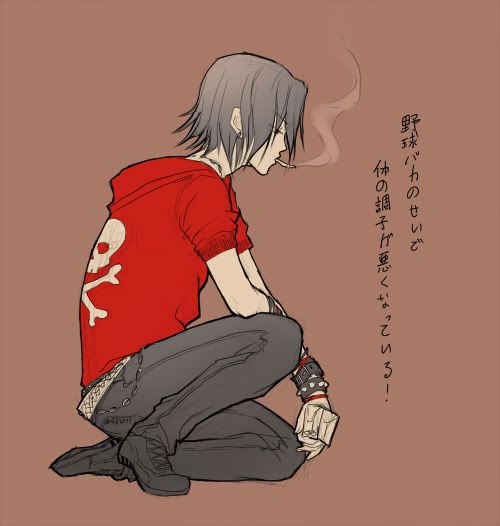 This is not so failed Gokudera I think. And my uber pro Japanese that had to be corrected anyway (thanks Ali!).
How come, that whenever I meet with Usada I'm so totally back to my Reborn! fangirlism? And now it's double because Yamachan is back. YAMAAA ISSS BAAACK! KYAAAAAAAAAAAA!
Maybe I should leave a note here that I've got myself a